Play Golf Kelowna Value Cards are loaded with benefits to help you get Kelowna's Best Golf Value!
The PGK Value Card saves you up to 22% on green frees with the Now and Again Golfer Card , up to 28% with the Frequent Golfer Card, and up to 35% with the Addicted Golfer Card, while also giving you reduced rates on range balls at our practice facilities. Golfers 35 and Under can take advantage of the Addicted Golfer card benefits for the same price as the Now & Again Golfer.
No matter what PGK Value Card you purchase, you gain access to some great benefits such as:
Reduced rates for up to two golfers per day, per course; and a maximum of two baskets of range balls per day, per practice facility.
Your PGK card has no play restrictions, so will be charged one walking green fee for morning play, and $4 – $10 lower for play after 2 pm (based on the rates of the course being played).
If you see an 18-hole green fee rate offered that is lower that what your PGK Card offers at any of the courses (excluding regular, weekly league play), you will get an additional 5% off – guaranteed (green fee rate only, does not apply to cart rates).
All PGK Value Cards are sold as a prepaid card, and the value is drawn from the card as you use it during the season. The higher the original purchase price of the value card is, the green fee rates decrease for you.

If your card gets low, you can reload it in $200 increments to keep getting the reduced rates. After October 1

 there is no requirement to reload, you can just show your depleted card to keep receiving the benefits.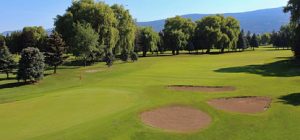 Show your card to start saving at any of our partner courses (Kelowna Springs Golf Club, Shadow Ridge Golf Club, Shannon Lake Golf Club, Two Eagles Golf Course & Academy, Salmon Arm Golf Club, Mabel Lake Golf & Airpark and Mara Hills Golf Resort), or our practice facilities (Kelowna Driving Range, Two Eagles Golf Course & Academy, and World Beat Family Golf).
Take advantage of our early load offers and get access to these benefits for a lower initial commitment. If you purchase a card before December 24, 2022, you will be entered for a chance to win one of 8 prizes valued from $40 up to $475. 
Purchase a Play Golf Kelowna Value Card today by using one of our partner apps, or by visiting a Play Golf Kelowna partner golf course.