CHOOSE FROM ONE OF OUR VALUE CARDS AND
SAVE BIG AT YOUR FAVOURITE COURSE.
Do you have lots of golf friends, or are you under 35? If so, you can save up to 37% on green fees.
ADDICTED GOLFER GROUP PACKAGE – $7,000
Includes 7 individual Addicted Golfer Value Cards, loaded up with $1,000 per card.
Only available until April 30, 2021.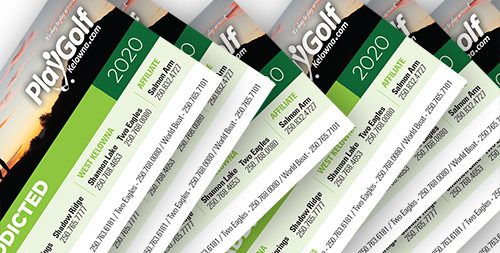 CHOOSE FROM SIX BEAUTIFUL GOLF COURSES
& THREE PRACTICE FACILITIES
Two Eagles Golf Academy
3509 Carrington Road | 250.768.0080
Kelowna Driving Range
3810 Casorso Road | 250.763.6181
World Beat Family Golf
625 Old Vernon Road | 250.765.7010